Discover more from Design Lobster
Surprising stories from the world of design. Every two weeks on Monday.
Over 3,000 subscribers
#35 When the designer is... an algorithm
It's Design Lobster #35. We're entering the weird world of AI-generated text and pondering what it hints about the future of design. Also, a witty poster from the 60s and a quote from the inventor of the N95 Ventilator. An array of treats. 🍫
---
✨ Enjoying Design Lobster? Why not share your love on social media? Shout me out @ben_strak on twitter and you'll make my day. ✨
---
Question: What does GPT-3 mean for designers?
Twitter went bananas earlier in the summer when OpenAI released a more advanced version of their natural-language algorithm - known as GPT-3. For those unfamiliar, the below description of how it works was the simplest one I could find on the internet:
"GPT stands for "generative pre-training transformer", a language model which can generate world knowledge by training on a diverse corpus of text. GPT-3 is the third iteration of this model. It's basically a language predictor: you feed it some content, and it guesses what should come next."
The weird and wonderful applications of the technology have so far included a tool that converts legalese into understandable text and a tool that can create (and accurately mark) quizzes. Perhaps most concerningly for me and some of my readers, these have also included a tool – shown in the video above – that can design a page of an app or website based on a short written description. 😬
Now, demonstrably, the quality of the design output in the video is not high. So I don't feel too unsafe yet. I am also broadly skeptical that this technology will be able to generate the flashes of insight that lead to really great work. But this example does point to a future where designers play a more curatorial role, selecting and adapting design ideas that are initially devised by algorithms. A brave new world where we are all studio masters with a team of hard-working algorithm apprentices working underneath us. Are you ready?
Design takeaway: What aspects of your design work would you delegate to a machine? Which ones would you be reluctant to?
Even more surprising applications of GPT-3.
---
Object: Galt Toys Poster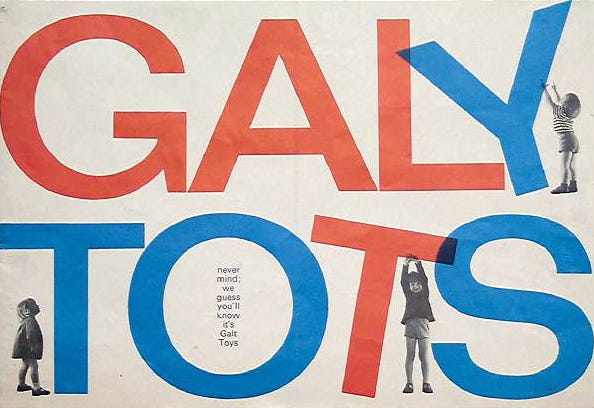 This clever 1961 poster by Ken Garland Associates shows children rearranging the letters of the Galt Toys brand into the words "'Galy Tots". Though each word is highlighted in its own colour, at first glance somebody looking at the poster might not realise the actual name of the brand. Undoubtedly a risk for a company spending money on advertising, but a calculated one. It is as though the company have wearily permitted the mischievous children to go ahead and rearrange the letters anyway despite their protests – a sentiment to which one can imagine many parents instantly relating.
Ken Garland Associates worked with Galt Toys for over twenty years, producing many other memorable designs. Ken himself was also famous for the activist design work he carried out for the CND. In 1964 he published a famous manifesto called First Things First that took a stand against so many young designers having to use their skills advertising the then new torrent of silly consumer goods.
I admire the wit of the poster above and its determination to follow through an idea despite risks. It shows, incidentally, the kind of creativity that I find it hard to imagine a machine ever being able to replicate.
Design takeaway: What risks could you take with your design to communicate a message?
Listen to a podcast with Ken Garland here.
---
Quote: "It's my job to produce tools for living. The designer accomplishes this as an observer, a catalyst, and above all, a survivor." 

–

Sarah Little Turnbull
I love this quote. Observer and catalyst are solid descriptions of the role that designers play, but it's the word survivor that really caught my eye. Sarah's personal history was tinged with family tragedy so I like to think this quote refers to that. The compassion and humanity she gained from surviving all that suffering enabled her to better serve other people through her designs.
Among many other things, Sarah invented the N95 Ventilator which you can read about in Design Lobster #11.
Keep surviving. 🦞
❤️ Ben
---
Has this email been forwarded? Sign up below to get the weekly emails delivered to you. ✏️