Discover more from Design Lobster
Surprising stories from the world of design. Every two weeks on Monday.
Over 3,000 subscribers
#14 Contactless cities, feather helmets & relationships
It's Design Lobster #14 and this week there's a theme of touch. Things that are nice to touch and things that perhaps we shouldn't be touching at all. 🚫👈
Question: How might we make society contactless?

Here Comes The Sun - a project by Paul Cocksedge Studio
I've been very interested to learn recently about the way some designers are reimagining some of our everyday interactions in light of the challenges posed by coronavirus transmission.
One kind of project tries to make the distance between people more visible. Most humans are not the best at precisely estimating distances, which given the need for social distancing has suddenly becoming a significant shortcoming. The open-source project Here Comes The Sun (above) by British designer Paul Cocksedge acts as a joyful hybrid of blanket and tape measure, keeping all picnickers exactly 2 metres apart.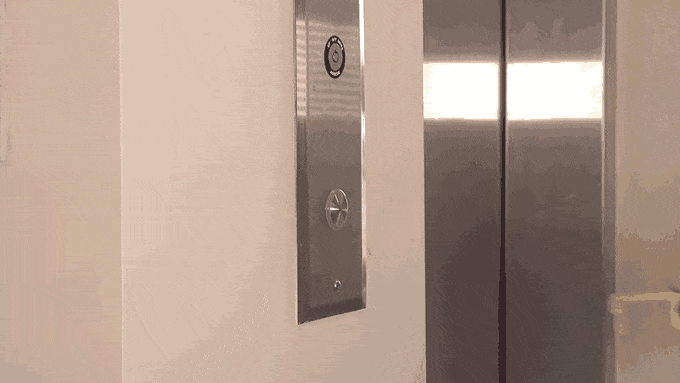 Hygiene Hand - currently on Kickstarter.
Another kind of project is preoccupied with our physical interaction with public surfaces. Coronavirus can live on plastic and steel for as long as 3 days, so products like Virus Hook and Hygiene Hand aim to reduce the risk of infection by mediating your interaction with lift buttons, ATMs and door handles with a piece of antimicrobial brass or copper.
Not futuristic enough for you? This lift in China has been retrofitted with a holographic keypad to eliminate physical touch entirely from its operation. ✨
What I find especially interesting about this latter kind of project is how they adopt design patterns originally developed for those less able to interact with our built environment in the first place. These hooks and hands join a whole world of products that aim to make the world more navigable for the physically handicapped. An example of Universal Design in practice (see issue #13).
Design takeaway: What steps could you take to make your design require less contact to function?
Download a pdf with instructions for how to make your own 2-metre blanket.
Or pre-order a Virus Hook here.
---
Object: Hawaiian Feather helmet (Mahiole)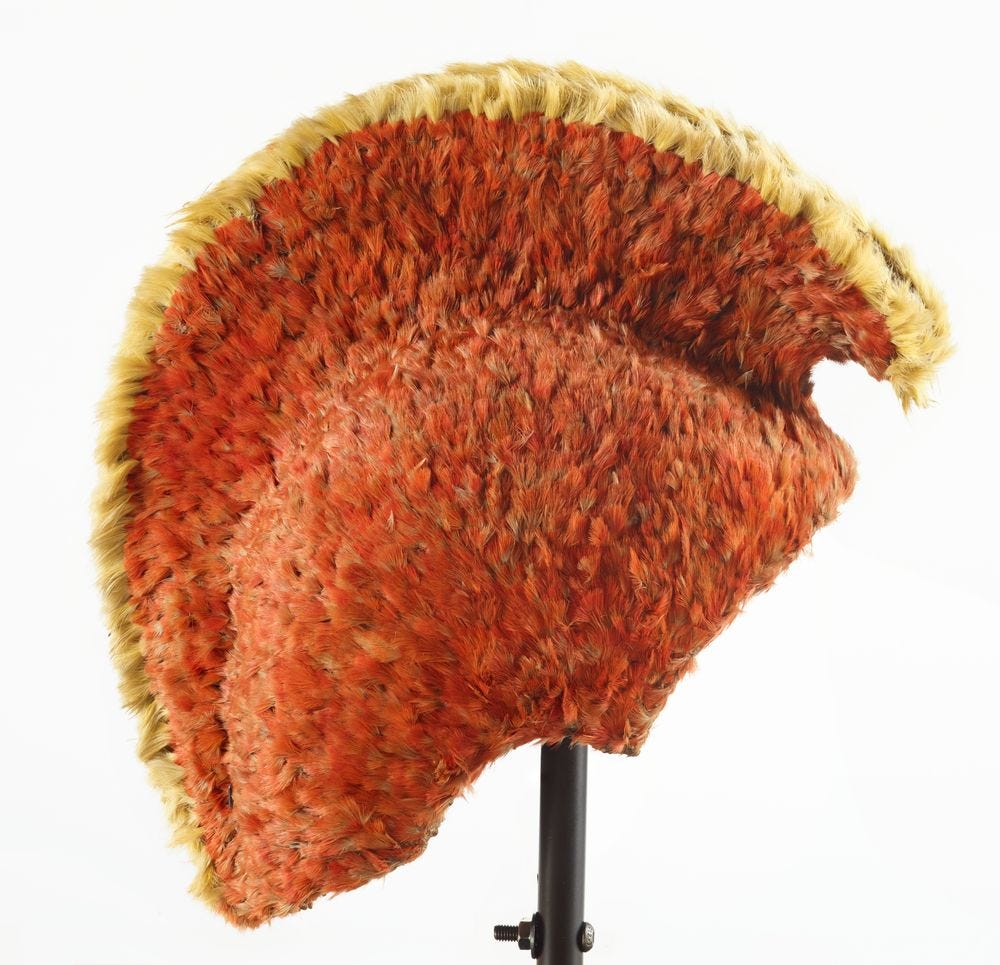 The mahiole probably presented to Captain Cook when he landed on Hawaii in 1778.
I am completely in love with these ritual helmets that were made on the island of Hawaii from roughly 1200AD. Each has a wicket basket frame that holds a fine network of woven fibres, onto which bundles of feathers from 3 different (now sadly extinct) birds are tied.
Red and yellow were the scared colours of Hawaiian culture, and the helmets were reserved for the alii - the Hawaiian royalty. An individual helmet might contain tens of thousands of feathers, which would have been collected over many generations. Feathers were used as a kind of currency on the island at that time and dedicated bird-catchers were trained to venture into the forests and bring back the precious bundles.
It's, frankly, Polynesian bling on the level of Kanye – literally a hat made of money. And yet because a currency of feathers is so different to one of gold and silver, the material qualities of the helmet are entirely different. How cold and hard Western jewellery seem in comparison! Captain Cook wrote that the feather helmet and cloak he was given felt like 'the thickest and richest velvet' he had ever touched. Nowadays, alas, we can only imagine what they feel like as the remaining helmets are far too fragile to handle by anybody except museum curators.
Design takeaway: If it can't be contactless, how could you add some of the more sensuous qualities of touch to your design?
Listen to the episode on Mahiole from the BBC's Around the World in 100 Objects.
---
Quote: "

Both the difficulties and the possibilities of making things well apply to making human relationships.

Material challenges like working with resistance or managing ambiguity are instructive in understanding the resistances people harbour to one another or the uncertain boundaries between people.

"

–

Richard Sennett
I last discussed some of Richard Sennett's work in Design Lobster #4 and he's back this week with some more food for thought. I'm so interested in the idea he expresses here — that the activities of design have something to teach about how to work with others generally. I find myself encouraged by the notion that in the effort to be a better designer, one might end up being a better person too.
Keep discovering. 🦞
---
Enjoyed this week's newsletter? Share it with a friend, loved one or fellow designer. 🤓
Has this email been forwarded to you? Sign up below. ✏️