Discover more from Design Lobster
Surprising stories from the world of design. Every two weeks on Monday.
Over 3,000 subscribers
#10 Design as mischief, flower arrangements & good ideas
Boom. It's Design Lobster #10. We're into double digits and there's no going back.
For those who are new, welcome! For those who aren't thanks for sticking with me for ten whole issues (and through a pandemic too 😅). There's a naughty and nice theme today. 🃏
BTW If you have been enjoying these newsletters I'd be so grateful if you'd tell just one or two other people who might also enjoy it. I promise I won't ask you to do this very often, but today if you can please do share the lobster love. 🦞
Question: How might we design mischievously?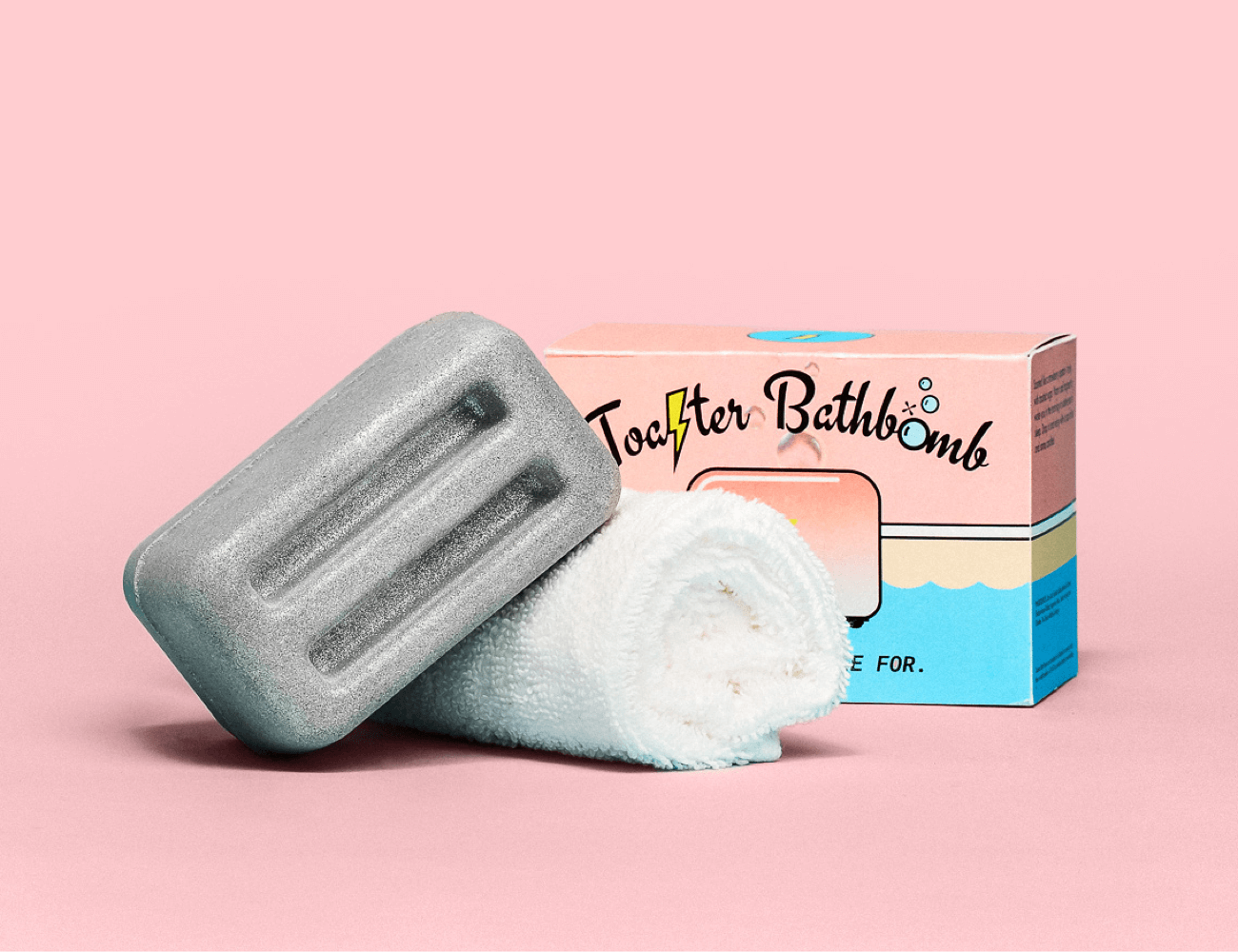 Above: Toaster bathbomb, MSCHF's dark take on self-care.
MSCHF are a mysterious New York company founded by West Point dropout Gabriel Whaley. They specialise in faintly ludicrous zeitgeisty products and services served up in Supreme style 'drops' that are designed to ruffle feathers and go viral on social media. This has included a macabre toaster bath bomb (shown above) but also digital products like Wingman – a version of tinder only for people on planes, and Netflix Hangouts – a chrome extension that lets you watch Netflix at work by making it look like you're on a conference call.
Some of them have sailed to close to the wind and been shut down. The Blue Donkey - a fake food ordering service that allowed employees use their company expense account to make disguised political donations to anti-corporate lobby groups – only lasted a few hours.
I like the spirit behind MSCHF's work – it's a kind of sharper-edged chindogu for the internet generation (see Design Lobster #7). The products acknowledge motivations that can tend to be tidied away in conventional design work, like the desire to make people think you are harder working than you actually are, or to get revenge on your company. MSCHF's world is messy and contradictory, closer I think to the one we actually inhabit.
I also can't help but be fascinated that all this mischief seems to be a moneymaking venture – MSCHF got $11.5m of investment to develop new ideas in the last year alone 😮.
Design takeaway: How could you add some mischief to your design?
Sign up for MSCHF's next drop.
---
Object: Ikebana Flower Arrangement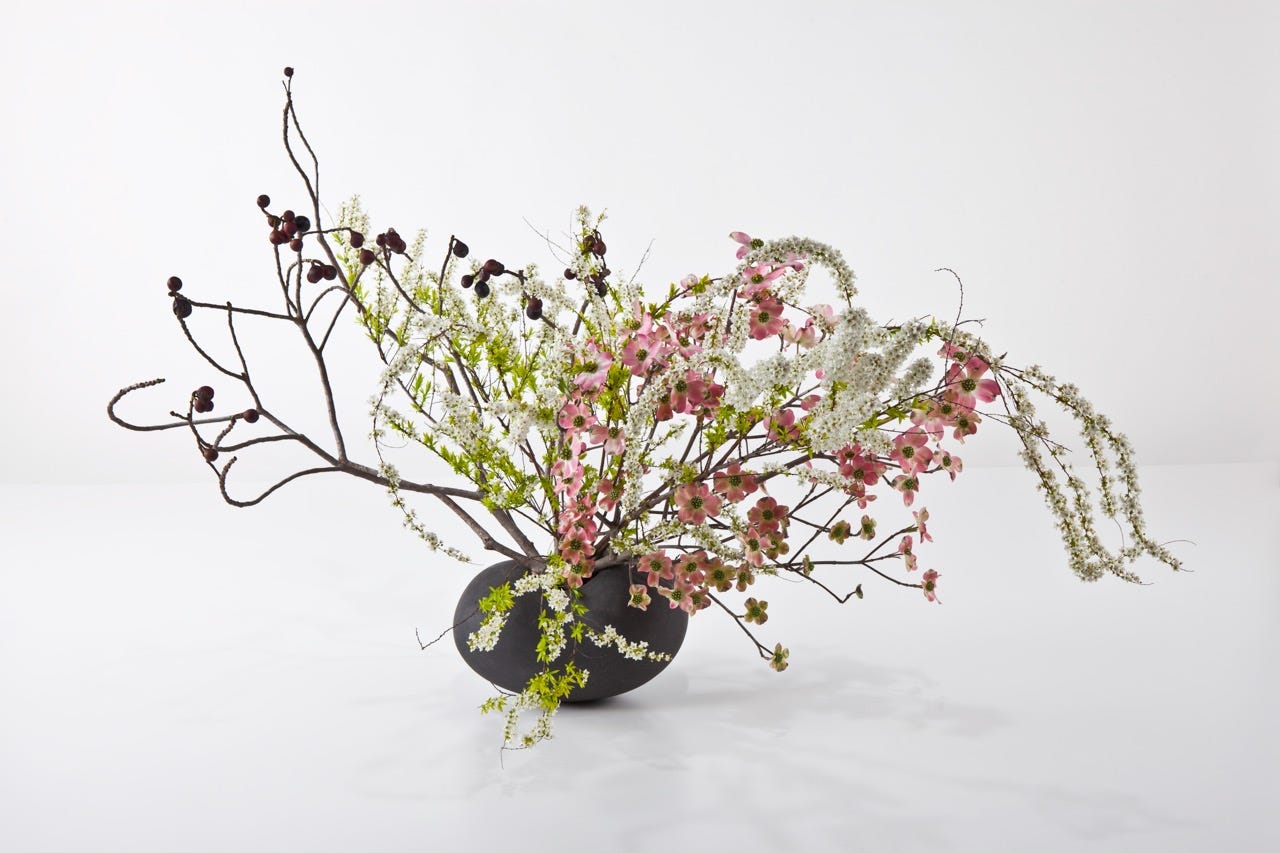 Ikebana (生け花, 活け花 - literally 'making flowers alive') is one of the most important schools of Japanese flower arranging. Unlike in Western tradition, in which the blooms predominate, an Ikebana arrangement may emphasise the stems and leaves at as much if not more. The goal is to achieve a naturalistic shape with strong lines and a sense of balance. For this reason, compositions should never be symmetrical, often instead they take the form of a scalene triangle. A clever spiked metal weight called a kenzan stops the branches from toppling over.
There are a number of other rules too; red flowers are considered unlucky (because they look like tongues of fire) and you must always use an odd number of flowers in any arrangement. Specific colours or plants can also be used to denote occasions, for example white for death and willow for a departure or a return.
Ikebana encourages the arranger to be open to the idiosyncrasies of a particular plant. To go with the flow and see where it takes you. I think that's a good lesson for any designer.
Design takeaway: How could you work with (and not against) the elements of your design?
Need a lockdown activity? This dutch woman will teach you how to do your own.
---
Quote: "

These days, the problem isn't how to innovate; it's how to get society to adopt the good ideas that already exist.

"

– Doug Engelbart
Doug Engelbert was an early computer and internet pioneer, credited with inventing the computer mouse. He was passionate about the ability of computing technology to augment collective human intelligence. In this quote, from an interview before his death, he expresses his frustration with the slow adoption of powerful technologies. In my view that's where designers come in, bridging the gap between technology and society so that we all move ahead together.
Keep discovering. 🦞
PS. Help researchers model the spread of Covid—19 with

this symptom reporting app.
Has this email been forwarded to you? Sign up below.